Tuesday, 27 November 2012
People think making custom gear for your children's toys has to be difficult. It doesn't! AND you kiddos will love to get their creative juices flowing with a little parent/kid craft time. A perfect example is a saddle I made for my daughter's Pony Royal toy. Over the summer I was introduced to Pony Royale by my friends Jaime and Kyla. My daughter enjoyed them so much, I contacted the lovely folks at Pony Royale to see if we could have a pony party. They said yes!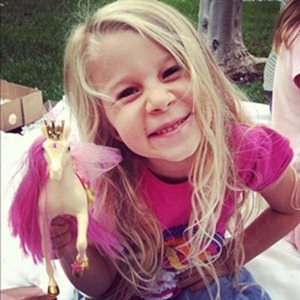 The 12 princess ponies, are loaded with all sorts of changeable glitzy flare – crown, saddle and bustle thing.
Today we made a Christmas saddle using sparkle felt, lace, Christmas ribbon and rhinestones. No sewing involved – just scissors and my trusty hot glue gun!
It's easy to make accessories for ANY toy:
Keep things really simple and make a blanket for you child's favorite toy with a cut piece of fleece or felt. Felt and fleece are great because they doesn't fray.
Take it up a notch and hot glue two rectangles of felt/fleece together on 3 sides, stuff and hot glue closed for a pillow.
Dresses, skirts, pants and tees can all be made by tracing a rough pattern around the toy, and hot gluing together. The best part, is toys don't complain if something is too tight!
The most important part is your little will love spending time with you making something special for their favorite toy.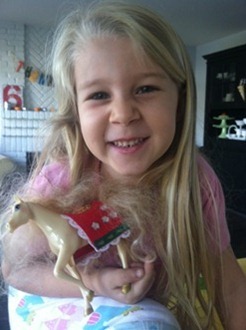 I'm giving away one Pony Royale Pony on my blog right now! Click here and leave a comment to win!
AND
I'm running a great giveaway with other bloggy friends for a KitchenAid Stand mixer AND a Keurig Coffe Brewer! Enter here now.
But if you win you have to have me over for homemade bread and a cup of joe!
Kara-Noel has been "crafting" since she could hold a glue gun! When she isn't hanging with her Hubby, chasing down her four kiddos (1-6 years old!) or napping you'll find her blogging at Eli's Lids The Blog or working on her business Every Moment Clothing!