Thursday, 27 September 2012
I know summer is over but I couldn't NOT share these awesome tips  from Mike Saraylian, the owner of Harvest to Home (video below). Harvest to Home comes to your home and puts together your own garden so you can have truly organic food in your backyard… literally. (See these videos for more info.)
Eli planted this lil' ditty at one of Harvest to Home's Summer garden classes at the Greentree Chopshop in Costa Mesa. I added the aqua and orange flower flare!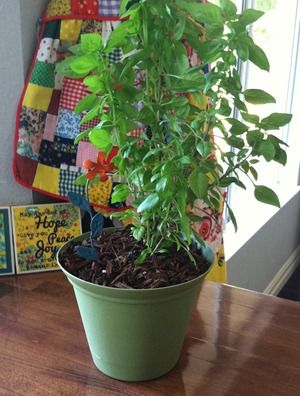 I used a lil' spray paint on an old rusty hummingbird feeder to give it new life, and one of the flowers fell off. The broken flower made the perfect addition to my herb plant. I love the way the hummingbird feeder turned out.  Can anyone tell me exactly what kind of herb I'm growing? I think it's basil and it's great on pasta. I've just been adding it to random dinners.
Get crafty. What can you spray paint today???
See all the details from the gardening class hosted by Harvest to Home over at Greenleaf Chopshop.
Check out all the things Harvest to Home has to offer here.
Visit Greenleaf Chopshop… it looks yummy. What a delicious addition to Orange County!
Visit all next week for AWESOME Halloween crafts.
Kara-Noel has been "crafting" since she could hold a glue gun! When she isn't hanging with her Hot Hubby, chasing down her four kiddos (5 and under) or napping you'll find her blogging at Eli's Lids The Blog!