11/28/2014 11:49 am
Kids can make a big impact on the environment in a positive way.
Even small children.
And to make a big impact, you don't have to do big things.
So here is a list of 7 ways small children can save the world!
Check out the complete list and activities here.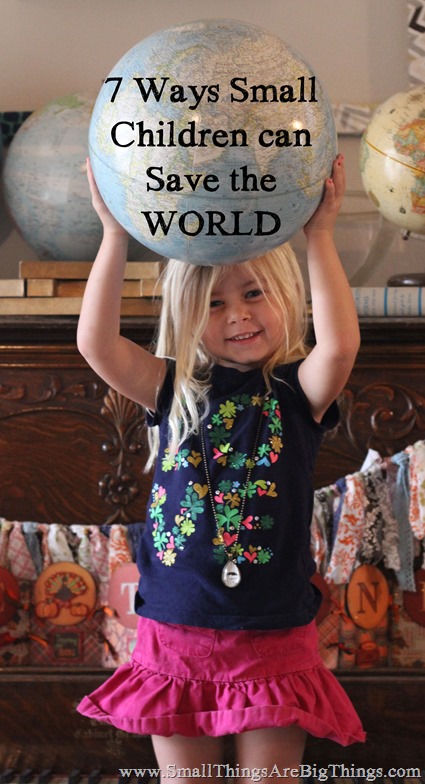 I'm not brainwashing my kids to save the world, but I am teaching them, their actions will affect the environment – in both good and bad ways. And I'm starting conversations with them about their impact.
I hope you like these small things… that are actually BIG!
1) Pick up trash at the park or on a walk.
2) Turn off the water while you brush your teeth.
3) Visit the Farmer's Market once a month.
4) Use both sides of the paper when coloring or doing art projects.
5) Turn off lights in a room.
6) Use reusable bags.
7) Recycle and use reusable water bottles!
I hope you enjoyed my 7 ways small children can save the world! (See the full list and activities here.)
Just to add to the ecology fun, I'm giving away these adorable Green Kids books.
5 paperback books that share the "going green" lifestyle with kids who can talk to animals. Now that's something to smile about!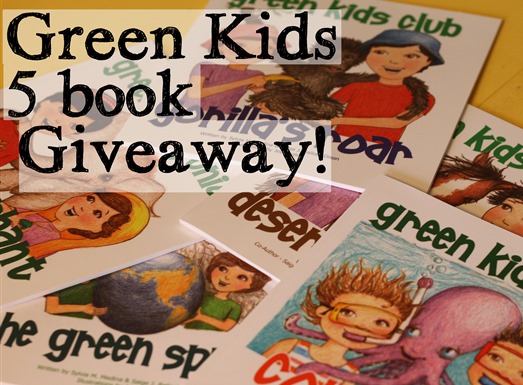 The illustrations are bright and beautiful, and each book's theme is topped off with a related science section in the back.
Follow the instruction in the box below to enter!
Good Luck!